San Antonio
San Antonio vacations are fun and full of different things to do and see.
Vacation apartments and villas in this town are the most popular choice among British tourists.
The second-largest town on Ibiza, San Antonio was originally called Portus Magnus by the Romans; today in its own right it is called San Antoni de Portmany (in Catalan) and San Antonio Abad (in Spanolo). Although known for its sizzling nightlife, during the day there are many different activities such as scuba diving, boat rentals, stores, entertainment of various kinds, or you can just relax on the golden sands of the beach. Here are some of the finest restaurants in Ibiza, which serve many types of international cuisines with prices ranging from very low to quite high.
San Antonio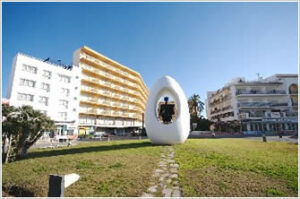 The resort attracts mostly British tourists; in July and August it is populated by energetic crowds of young people hanging around the discos, while in May, June, September and October you will find many families enjoying San Antonio's many resources in a more tranquil atmosphere. The town has an array of bars located mostly at the west end, an area in the center of the town that at night fills up with young people dancing and having a good time, the "sunset strip"-a selection of popular chill-out bars and restaurants where many people gather every night to watch the Ibiza sunset; the waterfront bars are also lively but attract a different and livelier clientele than those at the west end.
In the summer you can see live bands; the "Eden" and "Es Paradis," two discos on the island, are also located here.
San Antonio offers a wide range of vacation accommodations from luxurious Ibiza villas located in the surrounding countryside to inexpensive apartments in the center on the harbor.
On the opposite side of San Antonio is Port bes Torrent or "the bay," as it is more commonly known. Plus pubs, restaurants, bars with live music, karaoke, bingo, comedians, and discos; amusements, games, stores, supermarkets, inexpensive vacation accommodations, and another beach, are located in this quirky spot on the island.
Included in the San Antonio area are:
Santa Ines
Located north of San Antonio, this small rural village is one of the finest in Ibiza. Santa Ines or Sant Agnes (in Catalan) has not been contaminated by tourism so it retains its original beauty. Only a small store and a handful of lively bars/restaurants centered around a large church adorn the village center. The surrounding countryside is truly breathtaking-the area is completely covered with almond trees for miles around, and between winter and summer, when the trees bloom, people come from all over the island to see the incredible view. On full moon nights in February, the buds of the almond trees reflect the light of the moon, and when they fall, it looks like bright snow is falling, a truly magical experience.
During all months of the year you can see tourists and locals strolling around Santa Ines, there are many hidden passages in the cliff that seem impassable, but will lead you to breathtaking views and incredibly crystal clear water. Along the cliff's edge there are some small beaches to discover and hundreds of different wild herbs and plants that grow naturally along the way. Ibiza villas in Santa Ines, can be rural and very quiet, often with spectacular views as well.
Cala Gracio and Cala Gracionetta
The name of these twin beaches translated into Italian would be, "Spiaggia graziosa e Piccola spoaggia graziosa," a name that fits them like a glove. A kilometer away from San Antonio, Cala Gracio is a wide beach that holds a curious charm, in that it is not very wide, but it is really very long; there are two restaurants on the beach, and a very special store where you can also get Thai massage. By going around some rocks by a small path (or swimming around them, if you prefer), you will come to Cala gracioneta, a small beach with a beautiful view and a restaurant that serves excellent cuisine. The two bays are divided from each other by the cliff in such a way that the cliff frames them, thus creating a picture-postcard setting.
Gathered in the southern part of Cala gracio, on an old smugglers' beach, is the Cap Blanc Aquarium, home to a wide variety of Mediterranean life forms.
The beaches are safe for children, and in summer they are filled with tourists of all kinds, who swim and relax while devoting themselves to their tans.
San Rafael
Located halfway between Ibiza town and San Antonio in the heart of the island, this busy town is home to a number of stores, supermarkets, bakeries and Internet points. In the most remote corner of San Rafael is a large and beautiful church, on the top of the hill; it can be seen from far away, and from the terraces of the bars next door, you can see almost the whole island (fantastic when lit by night lights).
When you want to eat outdoors in San Rafael, you will be spoiled for choice among the many restaurants, which offer you a variety of options, from fine foods to distinctive ethnic dishes. For the evening, there are a variety of trendy and classy bars, and just outside the town, on the main street, are the famous "Amnesia" and "Privilege" nightclubs.
In the San Rafael area there are a number of villas tucked away in the countryside; this location is perfect because it is well connected to all other areas of the island.
Discover the other side of Ibiza