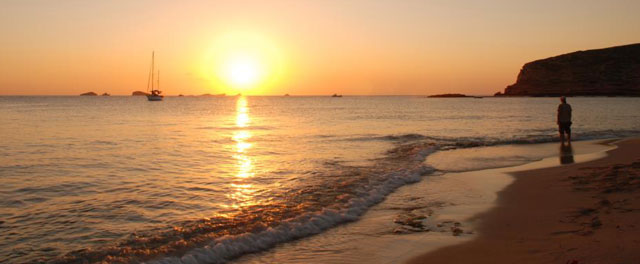 The summer season and the first warm days to enjoy the beach begin in May. Summers in Ibiza are hot and dry. There is very little rain between the months of June and September. In August and September temperatures rise to 30ºC and water temperatures are between 25ºC and 27ºC, making it perfect for those who seek sun and sand.
Ibiza has a notably warm climate. Even in winter temperatures rarely fall below 0ºC.From November to April, the average daytime temperature is about 15ºC, although on very sunny days this can soon rise to 25ºC. Local common knowledge has it that it never rains more than three days in succession. The rest of the time, the sun is said to shine in a clear blue sky.
Ibiza's sunny winters invite visitors to sunbathe on the beach, stroll relaxedly in the countryside or to do some kind of sport, making it an ideal location for a weekend break. Winter visitors will find themselves alone on the island, on wonderfully deserted beaches, able to enjoy the unique peace and quiet which has made Ibiza so famous.